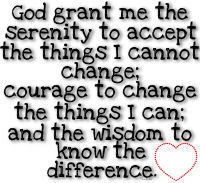 I've been fighting this for so long, I'm not sure it's real. I've been fighting the housewife/homemaker thing. Don't ask why. It's a long, sordid story that just shows that I still have issues with my parents. But two weekends ago my husband threatened to leave if I didn't do something with our pigsty of a house. I guess that was my wake up call. See, he said he'd take the kids with him.
So after many tears and prayers I bit the bullet and I have been plowing through the clutter and the dirt. It's still not great but it is a drastic improvement. And my husband even noticed. He helped clean up the kitchen one night last weekend and then tonight he told me that the house looked nice.
I've even been cooking more and spending more time with my kids. Which I might add that my kids have been helping out more now that they see mom doing more. The one thing that I'm having to struggle to keep up with is my writing, but I am pressing on.
So I will put it in HIS hands. Each day I will start anew and put it in HIS hands. It is no longer my burden. I will do what is required of me and I pray Lord that you will give me enough hours in the day to accomplish those tasks. In Jesus name, Amen